? Thinking of BeauKnits | Main | Party at the sheep farm ?
October 25, 2007
 * Spin to Knit Sweater!
I finished knitting sweater for my father's birthday gift!
I spun all yarn for this project from robing. It took me 3 weeks for me to spin them.
I am glad about this achivement.
I am a beginner of spinning. So, my spinning yarn is bumpy.
But I like my yarn. I like this sweater!
I hope my father likes this sewater.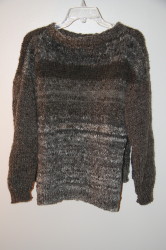 Posted by Mako : October 25, 2007 5:42 PM
Trackback
Trackback URL of this post:
http://bearhome.jp/mt/mt-tb.cgi/246
Comments (2)
Congratulations on your accomplishment. Your photo doesn't do it justice...or my computer monitor is at fault. It is a gorgeous sweater when seen in person.
Posted by Debb : October 28, 2007 7:22 PM
Dear Debb,
Thank you very much for teaching me spinning! I enjoy spinning to knit something.
I am glad that I showed this sweater to you before I left U.S.A.!
Posted by Mako
: October 28, 2007 10:29 PM