? Shipping to Japan | Main | We live in Kobe now. ?
September 8, 2007
 * Good-Bye Party
My friends from BeauKnits held Good-Bye Party for my husband and me. It was at Red Robin in Latham. It's American restaurant!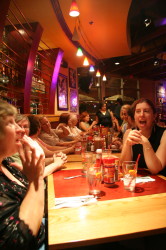 Total 15 friends of mine came for us. Some of my friends, who didn't come said to me that they wanted to come, but they can't. I was gald their kind words.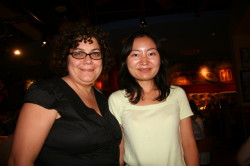 This is Cella. She is very cheerful. She is very busy for her job this time and doesn't have time to knit at BeauKnits with us. I feel sorry for this. Her home is close to ours. She often invited us to nice home parties. She is great at Italian cooking!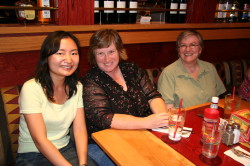 Debb (left) and Elizabeth (right) Debb took me to many wonderful places! My favorite trip with her is going to a yarn mill and Teddy Bear Shop in Vermont. She knows lots of wild flowers and animals. Including spinning, I learned so many thigs from her. Beaver watching was really impressive! Elizabeth has nice smile. I took Debb's Socks Knitting with Two Circular Needle with her. It's my great memory.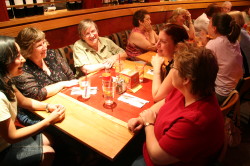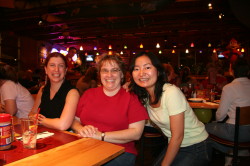 Carole (left) and Dee (right). Carol is great at lace knitting. Her knitting projects are cool. Dee is our new friends. I wanted to talk with her more.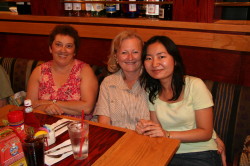 Sarah (left) and Bonnie (right). Bonnie held a wonderful Christmas party at her home last winter. We had great time with BeauKnits friends. Bonnie is great at cooking! Bonnie introduced Sarah to BeauKnits. She is our new friends.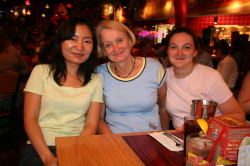 Sue (left) is our American mother. She taught me how to cook a whole chicken. (I had never cook whole chicken before.) And she took us to the Irish music concert. Paula (right) is a very creative knitter. I have seen her knitting projects couple of times and I am always impressed.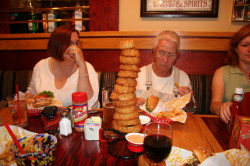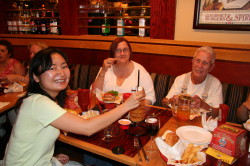 It's Phills(center). She comes to knit to BeauKnits every week. She likes knitting very much.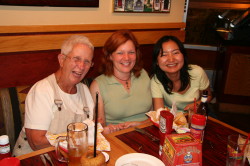 Pat (left) and Heather (right). Pat is really nice to me like her family. I had lots of happy memories with her. Heather held a knitting group in Troy. I went to this group, then I knew about BeauKnits. When we first came to USA last year, she helped me many things.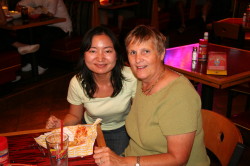 Barbara is the owner of BeauKnits. She was a principal at elementary school. She is really nice to me like her family, too. She taught me Amrican culture, cooking, fun anual events. Barbara took us to her school. We talked about Japanese culture. We enjoyed visiting her school very much.
Posted by Mako : September 8, 2007 11:23 PM
Trackback
Trackback URL of this post:
http://bearhome.jp/mt/mt-tb.cgi/319