September 3, 2008
* I am going to be a mother in 3 weeks!
Hi! I went to see the doctor yesterday.
My baby is 2700g now. My baby and I are doing good!
I am so excited to have a baby in 3 weeks.
I want to teach her knitting, embroidery and cooking!
My belly is huge. I found strange red stretch marks on my belly...
Knitting for my baby girl is my happiest time now.
July 11, 2008
* My baby girl
Hi!
The doctor told me that my baby may be a girl!
Now I can start knitting with pink or any pretty color!
We are so excited about our baby girl.
I am pregnant for 8 months now.
My belly is bigger and bigger in last two weeks.
It's hard for me take something when I drop it on the floor.
My baby is moving all the day. It makes me happy.
Take care,

June 20, 2008
* My baby
Hi friends,
I am in my seventh month.
I am going to have a baby in September.
My husband, I and our family are all excited about my baby.
For my parents and parents-in-low, my baby is the first grandchild.
I want to know my baby's gender very much. Many expectant mothers know their baby's sex in sixth month.
In Japan, there are classes for expectant mothers.
We learn how to breath in delivery, what is good to eat, maternity yoga, how to feed and so on.
We make friends with other expectant mothers at classes.
It's nice to have friends who are in same condition.
We talk about our body change.
I am so happy when I feel my baby's kick.
I knit my baby's hat, mitten and blanket. Now I am waiting to knit. I want to knit with right color for my baby.
Blue for a boy. Pink for a girl. It's Japanese tradition.
So, I am stitching Teddy Bear on a baby's blanket. It takes time to stitch.
Take care,
December 6, 2007
* Coffee in Kobe
I found that there are many coffee shops in Kobe.
If I walk 30 minutes on the main street, I will find a next coffee shop.
Fortunatelly, I like coffee very much. I drink at least 4 or 5 cup of coffee in a day.
I go to a coffee shop, then I take a note about coffee. Flavoir and taste.
I will try all coffee shops in Kobe.
I like to find a nice coffee shop.
I heard that Kobe was the first city that someone opened a coffee shop in Meiji era. It's hundreds years ago.
I will reasearch more about coffee.

November 13, 2007
* About my work now
I started working from this month.
I work for a company from Monday to Friday all day.
The office is just by the Kobe port.
And my office is on the 11th floor.
The view from there is great! It's good for refleshing to look through the window.
I don't have so much time for knitting or embroidery.
But when I knit or I stitch, I relax.
Now I understand some of my American friends say "Knitting is same as yoga for mind."
November 2, 2007
* Italian pizza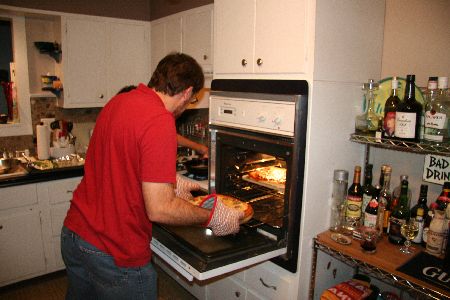 Cella and Rome gave me an Italian cooking lesson.
They are great at Italian cooking.
Sometimes they invited my husband and me to their home party.
They are excellent host.
I should learn Itarian cooking and party recipes.
I learned how to make Italian pizza at this lesson.
Cella made pizza shape easilly. I tried. But it was not so easy.
This pizza was really delicous!
To my surprise, this pizza was delicous when warmed next morning again.
"I Love NY Pizza" is nice. But it is not so good next morning.
This is the big difference.
I made pizza by myself on my birthday for dinner.
It turned out great!
My husband and I were happy at the dinner.
Thank you Cella and Rome!

November 1, 2007
* Afternoon at BeauKnits
I spent most of my time at BeauKnits in NY.
I enjoyed knitting with my friends at BeauKnits.
I love knitting with sitting near the window at BeauKnits when it's beautiful weather.
I miss BeauKnits!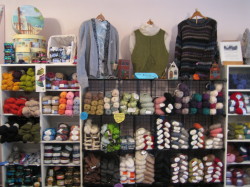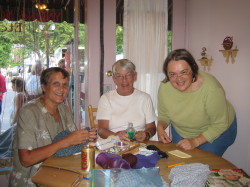 October 31, 2007
* My birthday
It was my birthday yesterday!
I got wonderful birthday gifts from U.S.A.
I got the felted ball with NY bird picture from Barbara, BeauKnits. It reminds me of NY!
I got the embroidery kit from Pat.O and Pat.S. I will enjoy the embroidery kit!
I got the pretty cloth from Sue. I love the color and picture of the cloth!
I got the special issue of spinning magazine from Debb. I enjoy reading this magazine!
I got the handmade lunch bag from Judi. I will bring lunch with this bag to work!
Thank you very much!!
I am so lucky that all of you are my friends.
Thank you very much for thinking of me!!
I had fun day yesterday.
I read birthday cards from U.S.A. many times and smiled!
I enjoyed dinner with my husband.
I cooked pizza, soup and salada.
It was my first time to cook pizza by myself with new oven.
It turned out great!
My husband bought my birthday cake from the famous chef in Japan.
It was delicous!
It's Halloween today.
I couldn't get a big pampkin here.
So, we enjoy looking the Halloween cards that Barbara and Sue sent us.
Nice pictures!

October 30, 2007
* Party at the sheep farm
There is a sheep farm near our apartment. It's only 20 minutes drive from here.
Lots of sheep! I liked the sheep farm at the first sight.
But in Japan, zoos and animal farms are in trouble with their business.
The sheep farm in Kobe need donation for them.
There is a supporter group, which helps sheep farm.
Everyone can join to the supporter group with donating some money. And we can go to the sheep farm with free entrance.
It's like a one year passport to the sheep farm.
So, we donated and join to the supporter group.
The sheep farm held a party for the supporter group to thank us.
They invited us and Kobe wine company.
The wine manufacturer gave us the wine lesson. How to taste and how to select good wine and so on.
We enjoyed the party very much!
October 25, 2007
* Spin to Knit Sweater!
I finished knitting sweater for my father's birthday gift!
I spun all yarn for this project from robing. It took me 3 weeks for me to spin them.
I am glad about this achivement.
I am a beginner of spinning. So, my spinning yarn is bumpy.
But I like my yarn. I like this sweater!
I hope my father likes this sewater.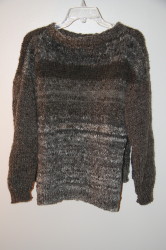 October 23, 2007
* Thinking of BeauKnits
Last weekend, my BeauKnits friends went to the sheep festival at Rhinebeck in NY.
Barbara sent me beautiful photos that she took there.
I like leaves changing their colors. Red, yellow and brown.
That's why I love Autumn the best.
Last Autumn, my husband and I enjoyed the trip to the sheep festival with BeauKnits friends.
We don't have such a big sheep festival in Japan.
We don't have so much space and sheep here.
This is one of the wonderful thing for knitters and spinners to live in U.S.A.
Last night, I got mail from Debb.
It was a surprise for me.
And it was a spinning magazine!
I enjoyed reading it very much!
There are so many kinds of great craft magazines in U.S.A.
I liked American knitting magazine and cooking magazine.
We don't have so many kinds of hobby magazines in Japan.
We miss BeauKnits. We wish to visit them near future.
Thinking of BeauKnits,
Makiko
October 22, 2007
* High tech grandmother!
My friend, Pat contact me by skype today!
She got speaker phone and camera for me!!
My husband and I were so impressed.
We are happy to see her. We enjoyed talking with her!
Through internet, we can communicate.
Now I really appreciate this technology.
Pat is so high tech grandmother.
Talk to you later, Pat!
October 19, 2007
* My Drop Spindle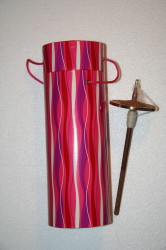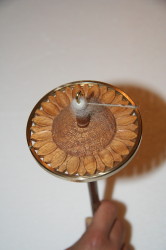 This drop spindle is my treasure. This is the gift from my friend, Debb.
She is my spinning teacher. I learned lots of wonderful thing from her.
She collects tons of drop spindles. I tried all of her drop spindles.
Then I decided what drop spindle is best for me.
It's good season for spinning now.
There is a sheep farm near my house in Kobe. It's good thing for spinner!
I will keep spinning and knitting in Japan.
October 17, 2007
* We live in Kobe now.
Dear friends,
We live in Kobe now.
We couldn't use internet about 3 weeks!
In Japan, to get telephone and internet, it takes 3 or 4 weeks.
Our house is on the middle of the hill and surrouned by mountain.
The view from our house is nice! Night view is beautiful.
We see Kobe port from our house.
Kobe is famouse for Kobe beef.
And this area is famous for fresh water, too.
We often see wild boars! No one around here are surprised at boars.
There is a sheep farm near our house. It's only 20 minutes drive from here.
We went to there on the first weekend at Kobe.
I found yarn shop in Kobe on the first day of my staying Kobe!
It looks nice store.
I will work near the yarn shop from next month.
I miss BeauKnits and knitting with you!
I heard that this weekend is sheep festival.
Enjoy!!